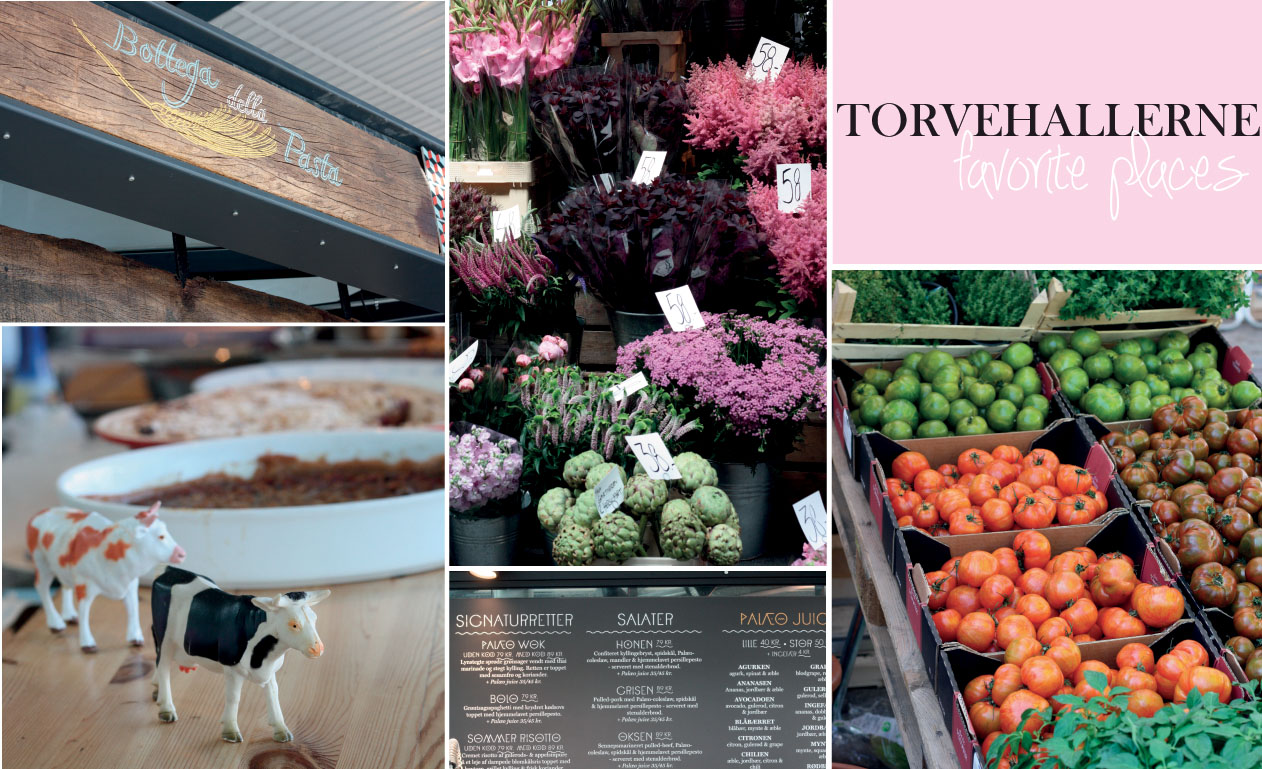 This is my personal guide to Torvehallerne in Copenhagen // Her er min personlige guide til Torvehallerne i København. Jeg skriver på engelsk for at tilgodese de udenlandske læsere, som kan få gavn af mit syn på København.
Are you visiting Copenhagen? Let me show you my city. I am going to write this post in english since I know that many of my readers are not danish and I´d like to tempt you to go to Copenhagen. I will create a "Copenhagen page" on the blog and make sure, you can always get a bite of my city. There is a danish recap in the bottom of the post.
Torvehallerne is in the central Copenhagen. It is an exclusive marketplace with café´s, diners, vegetables shops, colonial specialties, fish-, cheese- and meat markets etc. It´s worth a visit even if you´re just out to find a cup of coffee or a smoothie – because the whole setting is so perfectly well set that you get a sense of being some where special.
I myself go here on a regular basis both to get my favorite coffee, apple gel for my cooking or to find flowers that are a little more unique than the usual suspects. I looooove this place and want to share with you which shops I always pay a visit. Let me just stress that all shops in Torvehallerne are really good though.
Buying vegetables
If you are visiting Denmark you should know that we in Denmark grow a lot of vegetables and if you are here during the summer don't cheat yourself of having "nye danske kartofler", which are new danish potatoes. They are especially good with melting butter and parsley on the side to a breaded flounder. The vegetable sellers at Torvehallerne have a wide variety of mushrooms, veggies, salads, cabbage, fruits & berries and they are always presented in a tempting way.
The best cup of coffee
If you´re a nerdy coffee lover The Coffee Collective is the place to get indulged. Here they import the good beans and they know exactly how to treat is. It feels like true love!
Wine, beer and cheese
At Trovehallerne there are several places to eat and I should maybe also have taken some pictures from Gorm´s Pizza. I didm´t but now you know that you should have a look at that also. Morten and I have a couple of times enjoyed Le Petit where they serve plates with sausages and cheese and wine. The place is situated i Hal 1 right by the doors so if it´s a sunny day it´s perfect to be siting with a glass of cold white wine.
Also the neighbor to Le Petit called "Omegn" is great. They serve beers of all sorts and again the settings are cozy.
Cakes and bakeries
There are several bakeries to choose from, but one of my favorites is Cafe Rosa. There´s something special about this place and for me it´s probably the combination of iconic owner Maya in her colorful outfits and braids and the fact that she bakes really tasteful cakes.
Should you be a Paleo-fan Torvehallerne has a Paleobar too as well as a pastry with pastel colored meringues and cakes.
Colonial shops and delicasies
One of my absolute favorite shops is Bornholmerbutikken. Bornholm is a small danish island where culinary specialties are produced with respect of our nature. I have to mention the lemonades from Bornholms Mosteri, especially the rhubarb lemonade is fantastic. Also I love a good apple gel for my cooking. I usually mix it with a hint of maple syrup and blend it in my winter salads with cabbages and fresh apples. Mmmm yummie…
I have fallen in love with Bottega della pasta where they make fresh pasta al day long.
These were my favorites – the shops I usually visit on my route. There are many other love shops to visit and maybe later on I will need to make a new post again? I hope you enjoyed my roundtrip and hopefully, if or when you´re in Copenhagen, this can be useful for you.
Need more info on Torvehallerne, please visit the homepage here. Need to see it on a map? Go here.
Dansk resume: Jeg elsker Torvehallerne og har efterhånden en rimelig fast rute, når jeg er der. Egentlig kunne jeg sagtens fremhæve mange flere butikker end de nævnte, men jeg må jo også stoppe et sted. Se mere på torvehallernes hjemmeside (her) og jeg håber, du kan bruge min guide som inspiration, når du er i København.